One channel flow
Save space
Less pipe needed
Less cost
Limited application
Single Channel, separate AC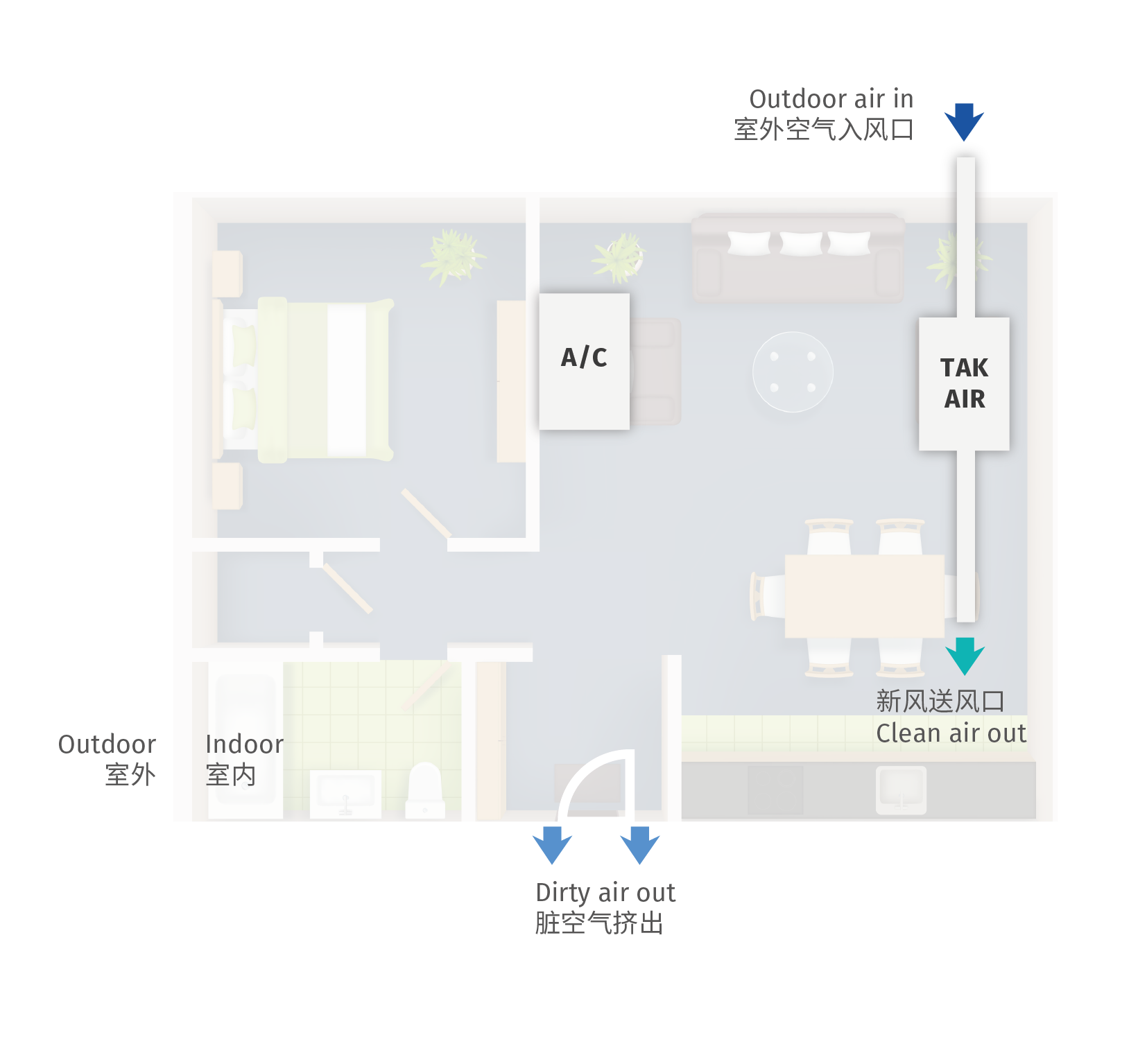 Single Channel, integrated AC
Two channel flow
Effective purification rate
Regulate temperature and humidity
Two Channel, separate AC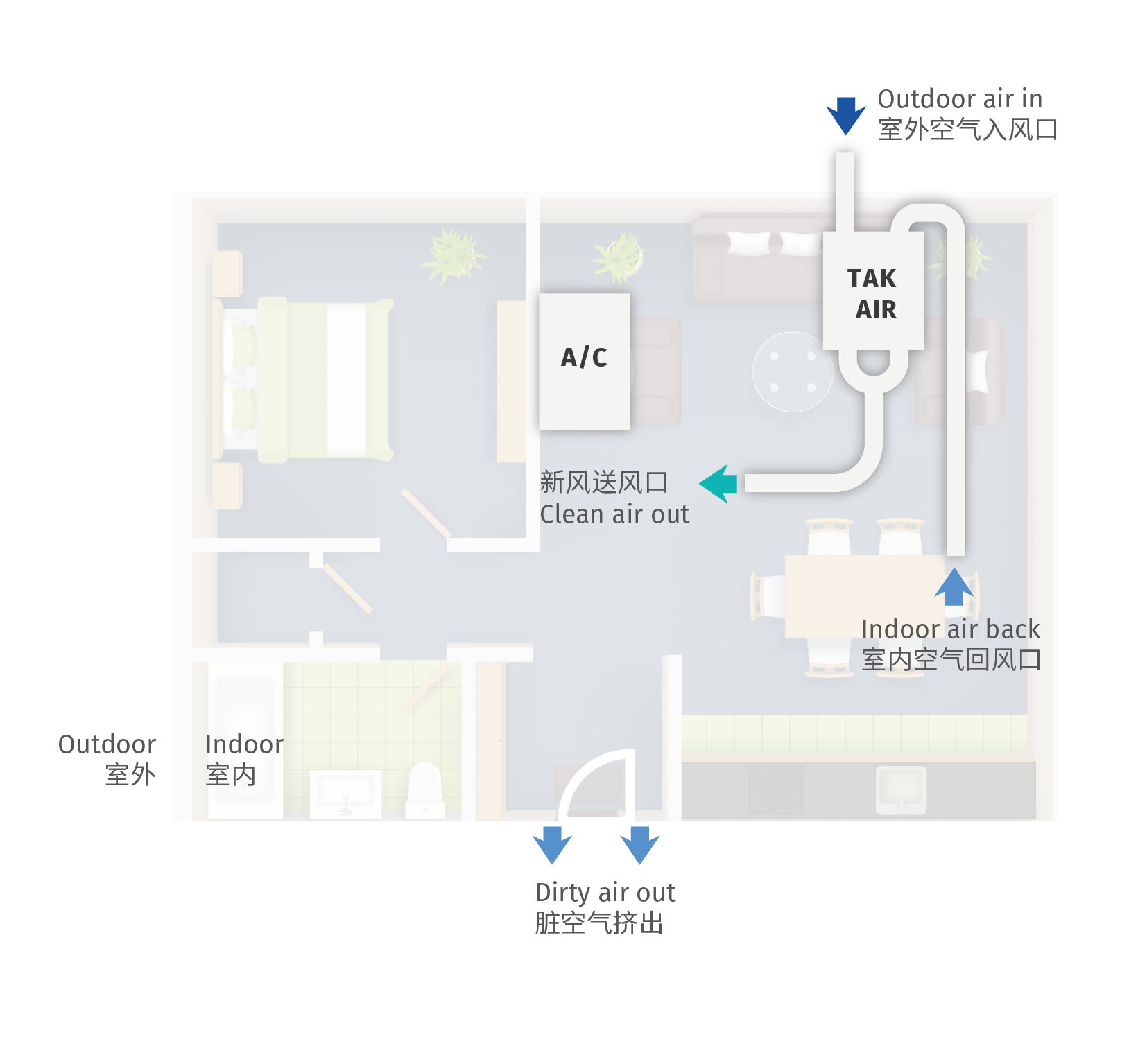 Two Channel, integrated AC
Purification vs Ventilation
Air Purifaction
Small particulates (PM2.5)
Unpleasant odors, smoke
Chemicals (TVOC)
Pet hair and microbes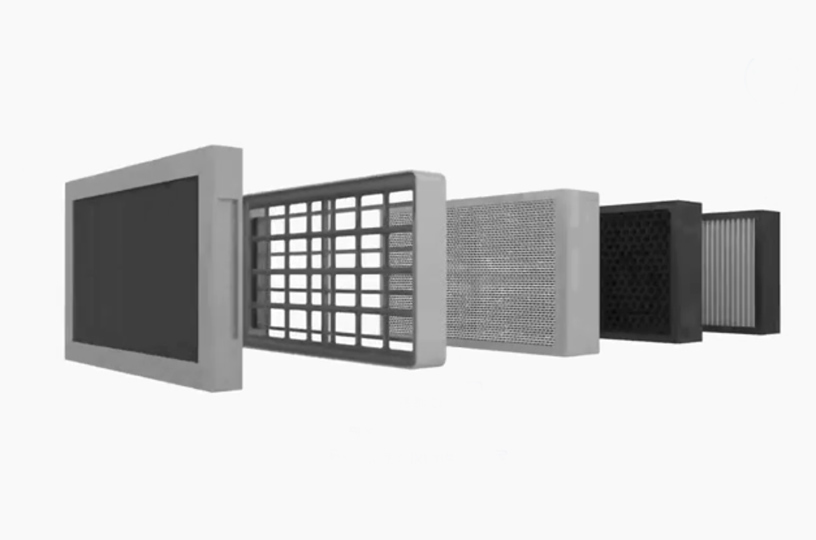 1
PREFILTER
Filtering pet hairs, flocs, pollen, mold and large particles of dust
2
BIPOLAR IONIZER (+)
Sterilization, degrade airborne pollutants, washable and reusable
3
BIPOLAR IONIZER (-)
Sterilization, remove PM2.5, decompose airborne pollutants, washable and reusable
4
ABSORBENT PURIFICATION
Purify harmful gases for indoor pollutants such as formaldehyde, benzene, ozone and TVOC
5
High-Performance HEPA Filter
Remove PM2.5, coated with nano-silver sterilization film
6
DIY module
Customized module based on specific needs, eg. odor remove
Ventilation
Brings in oxygen-rich air from the outside
4-level filtering of polluted outdoor air
Keep comfortable interior temperature by way of the patented Y-connector
Ventilation without need to open windows
1
Clear air and clean space
Air movement through ventilation reduces dust
2
No need to open windows
Safer handling and cleaner air
3
Invisible Freshness
Outlets and Inlets can hidden behind the ceiling
Flocs
Some fluff-like garbage always gathers on floor, corner, cabinet roof and other parts of home, which usually constitute of wool from clothing or bedding and cobwebs, etc. These substances under the action of static electricity and fiber tension to form entanglement structure, which is easy to breed aphids, parasites and bacteria.
Pets' hair & dander
When it comes to pet molting season, dog and cat hair fly all over the house, which can easily cause allergic symptoms for people who are allergic to animals. Pets often carry bacteria or viruses on their bodies, and with the loss of hair, they can also be left in various parts of the room
Virus
When people are sick, they carry viruses in their bodies. eg. as when people sneeze with a viral cold, they spray the virus into the air, and people in the same space are more likely to be infected with the virus.
Bacteria
Bacteria are everywhere in our lives. As the pathogens of many diseases, they can be transmitted through various means (such as contact, digestive tract, respiratory tract), with a strong infectivity.
TVOC
TVOC is Total Volatile Organic Compounds, which mainly from the floor, adhesives and so on. It effects human health mainly for it stimulates the eyes and respiratory tract, cause skin allergy, headache, sore throat, and fatigue. Among them, benzene, vinyl chloride, polycyclic aromatic hydrocarbons and so on are carcinogens. When the concentration of TVOC in indoor air exceeds 0.2 mg/m³, it can cause headaches, tiredness and drowsiness, resulting in dizziness and drowsiness, and when the concentration exceeds 35 mg/m³, it can lead to coma, cramping, and even death.
Toxic Chemicals
Some household cleaners contain harmful chemicals such as hydrocarbons, which can cause seizures, irregular heart rhythms or damage to the kidneys or liver. PDCB (p-dichlorobenzene) in air fresheners, mothball and toilet deodorants volatilizes and releases harmful compounds in air for long time due to slow evaporation. If people inhale those compound chemicals, the harm will be chronic.
Small particles (<0.1µm)
Particles with size less than 0.1 microns are numerous and more harmful. With a larger surface area, they carry more toxic and harmful substances leading to high rate of sedimentation in the lungs.
Smoke
Secondhand smoke contains tar, ammonia, nicotine, aerosols, PM2.5, cesium-210 and other more than 4000 harmful chemicals and dozens of carcinogens
Benzene
Benzene can be widely found in our life: automobile exhaust, organic solvents in architectural decoration materials, such as paint additives, common adhesives, and artificial board furniture, etc. Because of production and life pollution, benzene does great harm to human blood, nerves, reproductive system.
Formaldehyde
Formaldehyde is mostly used in building materials, such as pressed wood, also for household goods (e.g. adhesives, certain fabrics), and there are small amounts of formaldehyde in some perfumes and cosmetics. If people are exposed in an environment where the concentration of formaldehyde exceeds the standard level for a long time, the risk of myeloid leukemia or cancer will increase.
PM2.5
PM2.5 refers to atmospheric particulate matter (PM) that have a diameter of less than 2.5 micrometers, which is about 3% that of a human hair. It comes from various sources including power plants, motor vehicles, airplanes, residential wood burning, agricultural burning and dust storms. Some are emitted directly into the air, while others are formed when gases and particles interact with one another in the atmosphere. Since they are so small and light, fine particles tend to stay longer in the air than heavier particles. This increases the chances of humans inhaling them into the bodies. Owing to their minute size, particles smaller than 2.5 micrometers can bypass the nose and throat and penetrate deep into the lungs and some may even enter the circulatory system.
Pollen
Diameter of pollen is generally around 30 to 50 microns. They are easily sucked into the respiratory tract when dispersed in the air. Pollen allergy is very common with main symptoms of sneezing, runny nose, tears. In serious cases, it induces bronchial asthma, pulmonary heart disease (most often in summer and autumn). In the pollen-prone season, pollen enter rooms without notice when doors or windows are open.
Patented Y-Structure compared to standard structure
Full heat exchange technology
Temperature and humidity cannot be fully exchanged, fresh air is not comfortable enough to enter the room
Dual-channel coupling technology
Fully exchange indoor temperature and humidity in the pipe, keep the comfort level of fresh air into rooms
TAK AIR participated in the customization of industry standards, air purification quality control system, coupling fresh air purification system, kindergarten oxygen control purification system, hospital air purification PM2.5 control system